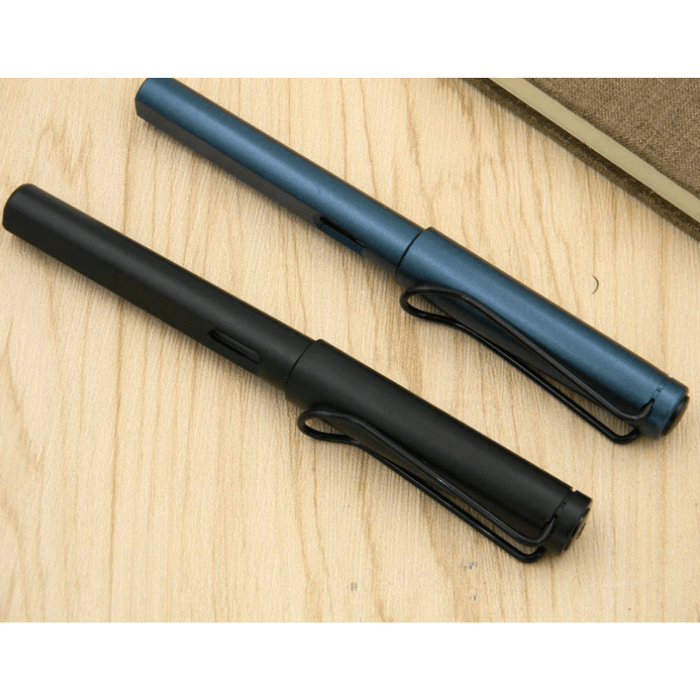 Classic Fountain Pen - Pistol Nib
Save

$19.99
Save

$19.99
Original price
$39.98
-
Original price
$39.98
Elevate your writing experience with the Classic Fountain Pen - Pistol Nib.

Unveil its distinctive writing prowess, attributed to its unique nib design. Inspired by the grace of a falcon's beak, this nib flexes effortlessly, granting your writing a dynamic range akin to traditional brush and point pen calligraphy.

Elevate your everyday writing and create captivating calligraphy with ease, bypassing the complexities of a dip pen.
FEATURES:
Exceptional Writing Dynamics: Revel in sweeping strokes and tapers, courtesy of the distinctive Pistol Nib of the Classic Fountain Pen.


Falcon-Inspired Nib Design: The nib's resemblance to a falcon's beak ensures easy flexing for remarkable line variations, reminiscent of traditional brushwork.


Sophisticated Flair: Infuse your writing with a touch of sophistication, turning everyday words into artful expressions.


Effortless Calligraphy: Craft stunning calligraphy without the complexities of a dip pen, making creativity accessible.


Crafted for Quality: The pen's form and function exude exceptional craftsmanship, reflecting dedication to superior writing instruments.


Convenient Ink Transfer: Easily refill the pen by unscrewing the barrel and immersing the nib into the ink bottle, ensuring an efficient cartridge refill process.
CHOOSE FROM TWO COLORS:
Express your style with the Classic Fountain Pen - Pistol Nib in your preferred color, offered in a choice of two distinct shades.