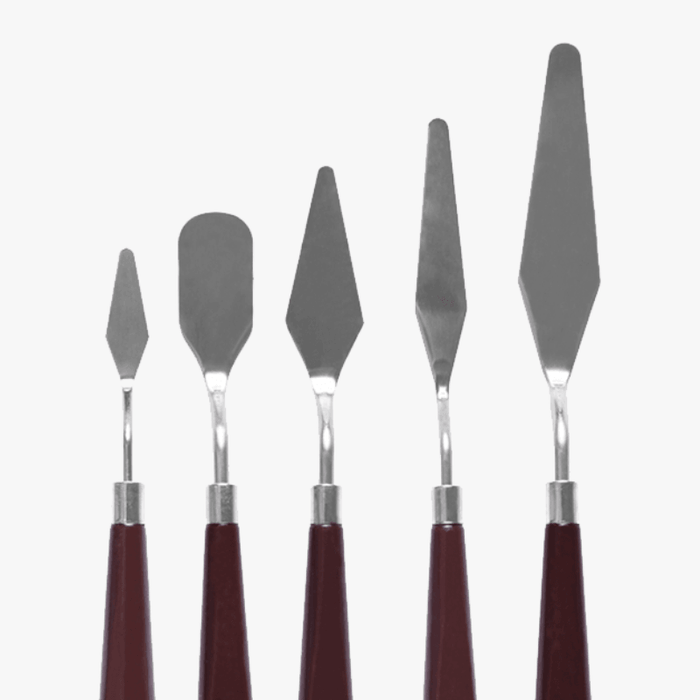 5 Pieces Stainless Steel Scraper Set
Save

$29.99
Save

$29.99
Original price
$59.98
-
Original price
$59.98
Enhance your painting techniques with precision and ease using our 5 Pieces Stainless Steel Scraper Set.

The user-friendly handles ensure a comfortable grip, making your creative process seamless and enjoyable.
FEATURES:
Excellent Blades: Crafted from stainless steel with remarkable elasticity, these blades exhibit exceptional durability and resistance to rust. Enjoy their longevity and reliable performance.

User-Friendly Handle: Designed with an emphasis on comfort, the ergonomic handle ensures a superior hand feel and unrestricted movement, enabling you to bring your artistic visions to life effortlessly.

Versatile Use: Perfect for a wide range of painting styles and mediums, including oil, canvas, acrylic, and more. Experience diverse painting expressions with each blade's distinct drawing method.

Well-Designed: Stainless steel curve bars connect the blades to the handle, preventing finger contact with the paint. This innovative design also secures the blades in place, eliminating concerns of loosening or falling during use.

Easy Cleaning: Thanks to the high-quality stainless steel material, cleaning is a breeze, saving you valuable time and allowing you to focus on your creative endeavors.
SPECIFICATIONS:
No.1 Length: 17.8 cm (7 inches)
No.2 Length: 18.5 cm (7.28 inches)
No.3 Length: 20.2 cm (7.95 inches)
No.4 Length: 21.8 cm (8.58 inches)
No.5 Length: 22.8 cm (8.98 inches)
ORDER NOW