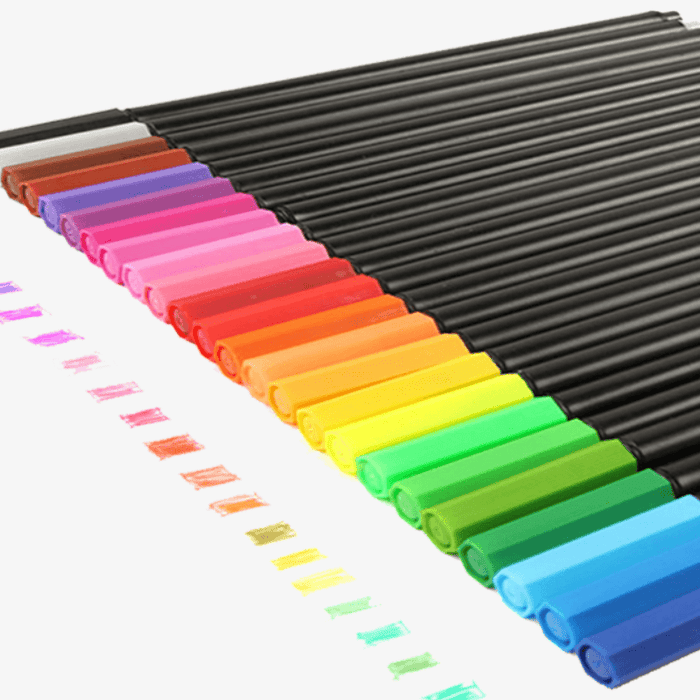 24 Colors Fineliner Drawing Pens
Save

$14.99
Save

$14.99
Original price
$29.98
-
Original price
$29.98
Fuel your passion for creativity with the 24 Colors Water-Based Fineliner Drawing Pens.

Discover the joy of crisp, clear lines that bring your artwork to life. From drawing to sketching, writing to coloring, these pens offer versatility and quality.

FEATURES:
Vibrant Water-Based Ink: Experience a spectrum of vivid colors with water-based ink that adds life to your creations.


Long Cap-Off Formula: Formulated to maintain ink flow even after extended periods without capping, ensuring consistent performance.


Durable Metal-Encased Tip: Each pen boasts a robust, metal-encased tip that extends the lifespan of the pen, allowing for extended creative sessions.


Ergonomic Hexagonal Design: The unique hexagonal shape offers a comfortable grip and prevents rolling, enhancing your artistic experience.


Vent Cap for Protection: The ventilated cap design not only guards the tip but also prevents ink from drying out, preserving the pens' longevity.


Compatibility with Rulers and Templates: Achieve precise lines and shapes effortlessly by using these pens with rulers and templates.


Versatile Creative Tool: Ideal for drawing, sketching, writing, and coloring, making them suitable for a wide range of artistic projects.


Suitable for All Ages: Whether you're a professional artist or a budding enthusiast, these pens cater to both adults and children.


High-Quality Craftsmanship: Crafted to deliver exceptional quality, these pens ensure consistent and reliable performance.


Perfect Gift Choice: A thoughtful gift for artists, students, professionals, and creative minds, offering a diverse array of vibrant colors for imaginative expression.
ORDER NOW